The Podcast's Larger Message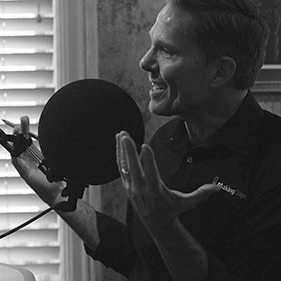 Jim Carr is quite possibly the most outgoing machine shop owner I have ever met. Upon arriving at his shop recently for a return visit (I had last been there several years prior), I heard my name cried out in greeting so loudly that it was practically a cheer. The gregariousness makes him distinct from other shop owners, who on the whole tend to skew more toward being introverted. One gets the sense that this also makes him at least somewhat distinct from his father, Richard Carr, who founded the business the son now runs,
Carr Machine & Tool
of Elk Grove Village, Illinois. The elder Mr. Carr remained involved with the business long after his son took over and fully retired only last year.
The younger Mr. Carr frequently discusses lessons his father taught him about how to run a shop. In fact, he has a forum in which he often discusses these lessons publicly. Along with Jason Zenger, Mr. Carr is the cohost of "Making Chips," a podcast devoted to the work and business of machining. The title of the show practically summons the elder Mr. Carr's voice to his son's mind, because the father repeatedly said (almost a motto), "If you're not making chips, you're not making money." Jim Carr and Mr. Zenger launched this podcast at the start of 2015, and it just finished its first year. I visited Carr Machine & Tool to meet with the cohosts and learn about this project.
The idea began with Mr. Zenger. The third-generation leader of tooling and supply company Zenger's Industrial, he too grew into a family business related to manufacturing and machining. He met Mr. Carr when both appeared on an AM radio program focused on local business. On and off the air, the conversation between them was natural, he says, "as if we were old friends or business partners." The shop owner also seemed to have tenacity and organizational skill surpassing what Mr. Zenger saw in himself. Approaching Mr. Carr about the podcast idea, he told his future cohost he knew of no other podcasters doing a show on metalworking.
That caught Mr. Carr's attention. He was not a podcast listener then, but a step he had taken earlier had shown him the power of doing something before others. Years prior, his decision to become active in social media ahead of other manufacturers—as simple as that move was—brought considerable attention to his business. Indeed, discussing social media was the reason he had been invited to the radio show. A podcast might be the next new-and-different thing that could set his shop apart and get it noticed, he thought. (And the fact that you are reading these words suggests he was valid in thinking this.)
Jason Zenger and Jim Carr are the creators and cohosts of "Making Chips." For efficiency, they often tape multiple episodes per session, but they have been posting episodes weekly since the start of last year.
In 2015, the show posted 50 episodes. Like typical podcasts, it can be obtained through the iTunes and Google Play podcast apps. Episodes are also posted at makingchips.com.
The earliest episodes of the show consisted of conversations between the two hosts on topics they chose. However, both men soon judged that interviewing guests made for a more interesting show. Now, more than two dozen guests have appeared, including professionals giving advice to manufacturing business owners and
manufacturing business owners themselves sharing lessons from their own experiences. Most guests come from the Chicago-area manufacturing community, and I find I am glad for this. Conversations with distant guests out of different industrial areas of the U.S. seem affected by that distance, while a shared background, familiarity and local industrial culture between the hosts and their guests seem to facilitate an easier rapport and a richer conversation.
The hosts worked on the podcast over the course of a year before they were ready to launch it. Quality was important. They wanted a professional sound, so they had a professional intro and outro created, and they contracted with a professional editor. They searched for answers to questions about various details of the show. (How long should each episode be, for example? The answer seemed to be found here: The average American commute is 25 minutes.) In addition, they joined a group of podcasting professionals from whom they could seek advice. More recently, to assist with the production, presentation and promotion of each episode, the show hired its first employee.
The show is not earning a profit in its own right. That's not the point, the creators say. The aim of the show is to offer something valuable to manufacturing and share useful ideas with other manufacturing leaders. Doing this, the show also keeps the names and brands of both men's businesses in the air in a positive way.
"I thought, if we could have 50 customers regularly listening to the show, that would be enough," says Mr. Zenger. Things went better than that. When the show launched, Apple listed it in the "New and Noteworthy" section of its podcast app, producing an initial surge of interest that was particularly well timed, because the two men were still dubious then about whether a metalworking podcast would find listeners. Now, it receives about 1,000 downloads per episode, and that success—moving from a shaky start to something that is noticed and has a following—points to the lesson I see in the two men's efforts. Obviously, not every shop should be doing a podcast, but most every shop should be doing something to stand out, whatever that might be. In other words, the lesson I see in this relates to marketing.
Mr. Carr went a long time before discovering not only that he should be marketing his shop, but also that he had gifts that lent themselves to this. The connection of the title "Making Chips" to his father's advice is ironic, because the podcast does not conform well to his father's beliefs about running a shop. For Mr. Carr, growth as a business owner has involved embracing some of his father's lessons about the business, while questioning others for the sake of adapting to the times. A generation ago, marketing the shop's capabilities entailed little more than putting a sign out front. But the time came when the younger Mr. Carr realized that the business climate had become so competitive, he had to do far more to promote and advance his shop's brand.
Plus, he wanted to do more. That much is also significant. The mindset he grew up with says the owner does not leave the shop, because the shop is where business comes in. Letting go of that mindset, he launched himself into networking—particularly through the opportunities for this afforded by the TMA, the regional manufacturing association well known around Chicago. (Today, he is that group's chairman.) This cultivation of contacts and relationships ultimately led to enough new business opportunities and proved so personally rewarding that Mr. Carr says he should have begun doing this years earlier than he did.
Again, not everyone should do a podcast—that's not the point. Hardly anyone should do a podcast. The important point instead relates to permission. Mr. Carr and Mr. Zenger gave themselves permission to invest significant time, energy and resources into a vision they wanted to pursue because of the inherent rewards of it, and because doing something worthwhile in this way could earn the appreciation of people they wanted to reach, drawing positive attention to their businesses and brands. If you were to do something unusual for the same reasons—that is, if you were to do something rewarding that might bring positive attention to your business—what would it be?